Teens and Parents/Guardians:  Join us on Thurs., Nov. 21 at Vic Johnston CC for workshops that will help you communicate more effectively to create healthier relationships in your life.  The Centre for School Mental Health at Western University and the University of Toronto Mississauga will provide parent/guardian workshops on communicating with adolescents.  Facilitators will also lead workshops for teens about communication, a module of Healthy Relationships Plus developed by The Fourth R.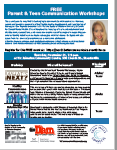 Register for this FREE event at: https://nov21bettercommunicate.eventbrite.ca
On behalf of all of us here at Erin Mills Connects, welcome!

Erin Mills Connects community organization (EMC) works for the good of all residents in Erin Mills, especially children and youth.