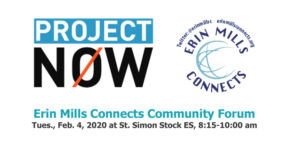 On Tues., Feb. 4, 8:15 -10 a.m. at St. Simon Stock Elementary School for a discussion of our role in Project Now.  Register at:  https://projectnow2020.eventbrite.ca
We look forward to seeing you there!
---
Erin Mills Connects is a community organization that works for the good of children, youth and their families in Erin Mills, Mississauga. Partners who serve the neighbourhood, parents/guardians and youth meet quarterly to learn about initiatives. EMC's volunteer Steering Committee is comprised of engaged, experienced and committed people who plan events to improve family well-being in the area. All meetings are open.
On behalf of all of us here at Erin Mills Connects, welcome!

Erin Mills Connects community organization (EMC) works for the good of all residents in Erin Mills, especially children and youth.