2021 Events
Summer Programs for Newcomer Youth :
Peel Multicultural Council is running two youth programs this summer
Youth Leadership Program – Every Tuesday 3:30 – 5 p.m.
Youth gain skills essential to leadership
Certificate of participation
Get a chance to practice their skills
Earn volunteer hours.
Social Nights for Youth – Every Thursday 3:30 – 4:30 p.m.
Youth get a chance to participate in fun and educational activities
Meet others
Get to know life in Canada
Earn volunteer hours
To join or learn more, contact Kinga – kinga@peelmc.com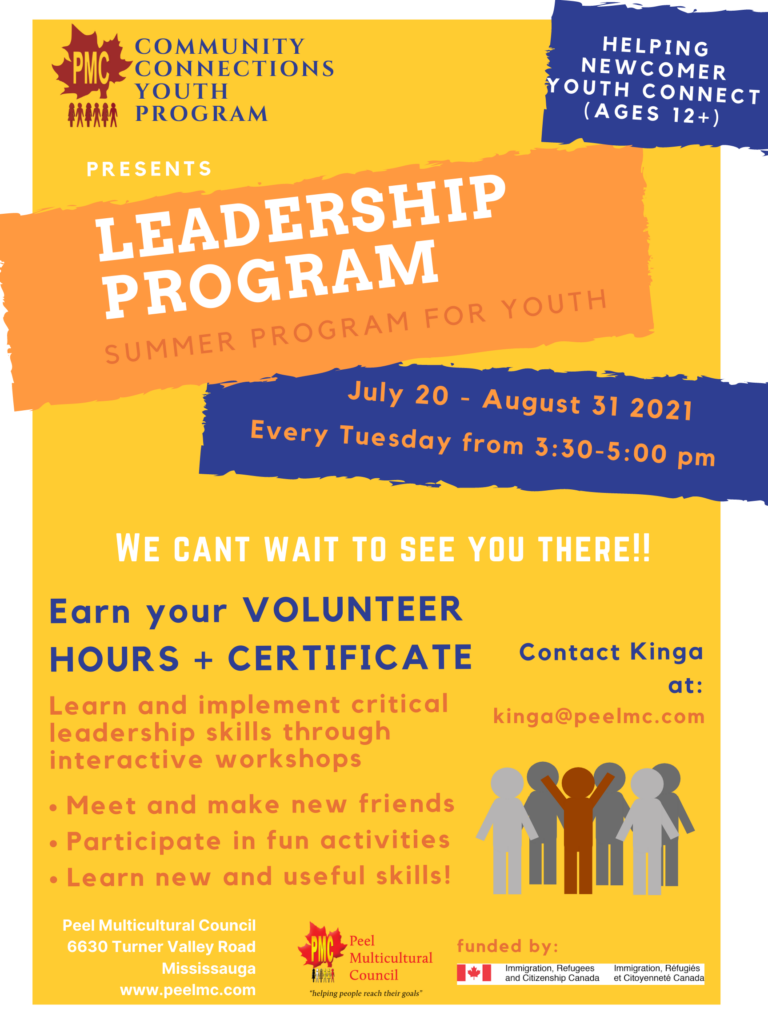 ---
Healthy Relationships Plus program part of Leadership Camp run by The Dam for high school youth — FREE
The evidence-based program that was developed through Western University is the foundation of a new summer leadership camp held online from July 26-30th. All participants will receive food and swag, and a certificate of completion from the university program. In addition, they qualify for Community Involvement Hours. Interested applicants should contact uprising@thedam.org or contact The Dam through Instagram @thedammdv or @thedamcv. Contact The Dam now.
---
Resilience
This spring, Dr. Tayyab Rashid spoke about resilience—our ability to adapt well to disruptions. This experiential presentation shared strengths-based skills and strategies to build resilience among families and youth. Dr. Rashid is a licensed clinical and school psychologist at the Health & Wellness Centre, University of Toronto Scarborough. For more than 15 years, Dr. Rashid has worked with individuals experiencing complex mental health issues, especially young adults from diverse cultural backgrounds. To see Dr. Rashid's presentation, visit the Erin Mills Connects blog, kidswellness.ca.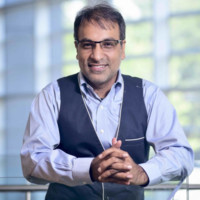 ---
Community Forum featuring Dr. Tina Malti and Dr. Ruth Speidel of UTM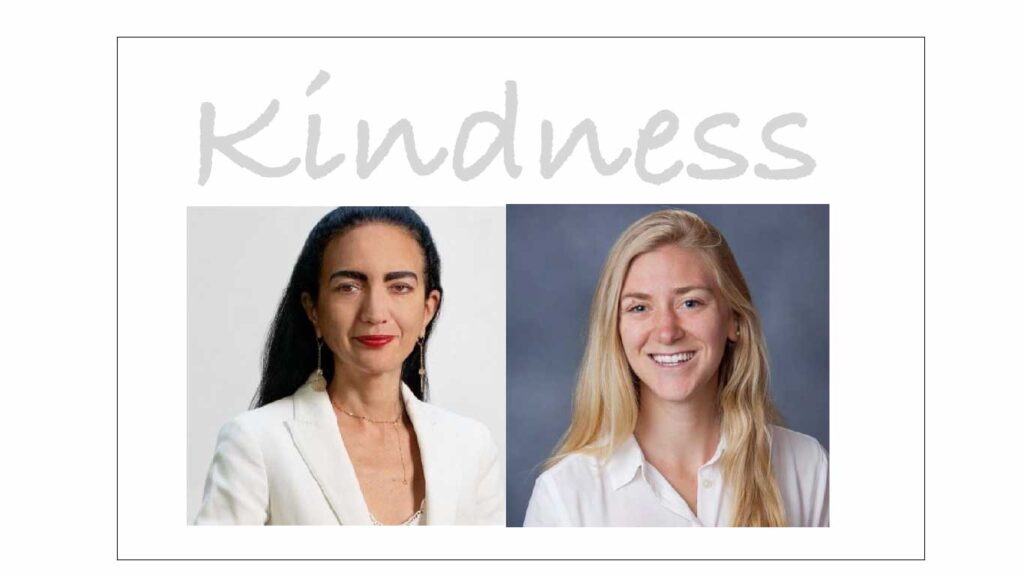 Close to 50 community leaders including parents were part of the discussion at Erin Mills Connects Community Forum on May 18. Supported by her team and her world-leading research in the areas of child social-emotional development and adversity, Dr. Tina Malti discussed her research on child well-being and social-emotional development, and a recent community-partnership initiative. Information and resources from the Community Forum are published at kidswellness.ca.
Beautiful Mind Day — It was a Special Opportunity for Children and Adolescents
Dr. Rumeet Billan spoke to more than 150 grade 6-12 students and their family members online at two sessions on Apr. 26. The topic of her discussion was "Who Do I Want to Become?" This interactive, online session was based on Dr. Billan's award-winning book of the same name. She discussed pathways, ways to be a leader and how to care for oneself during this difficult time. For a chance to hear Dr. Billan read her award-winning book to younger Erin Mills residents, visit kidswellness.ca.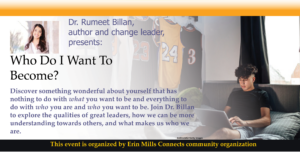 For more events, click here.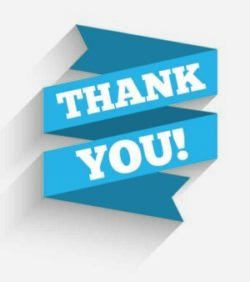 ---
Personal Donations are Welcome
To contribute to future projects of Erin Mills Connects community collaborative (trusteed by The Dam) and receive a charitable tax receipt, please make a donation HERE. Thank you.
Steering Committee Meetings – Open to All
We still look forward to connecting with you online, if not in person. Steering Committee meetings are open to community members. Visit our events site to register.